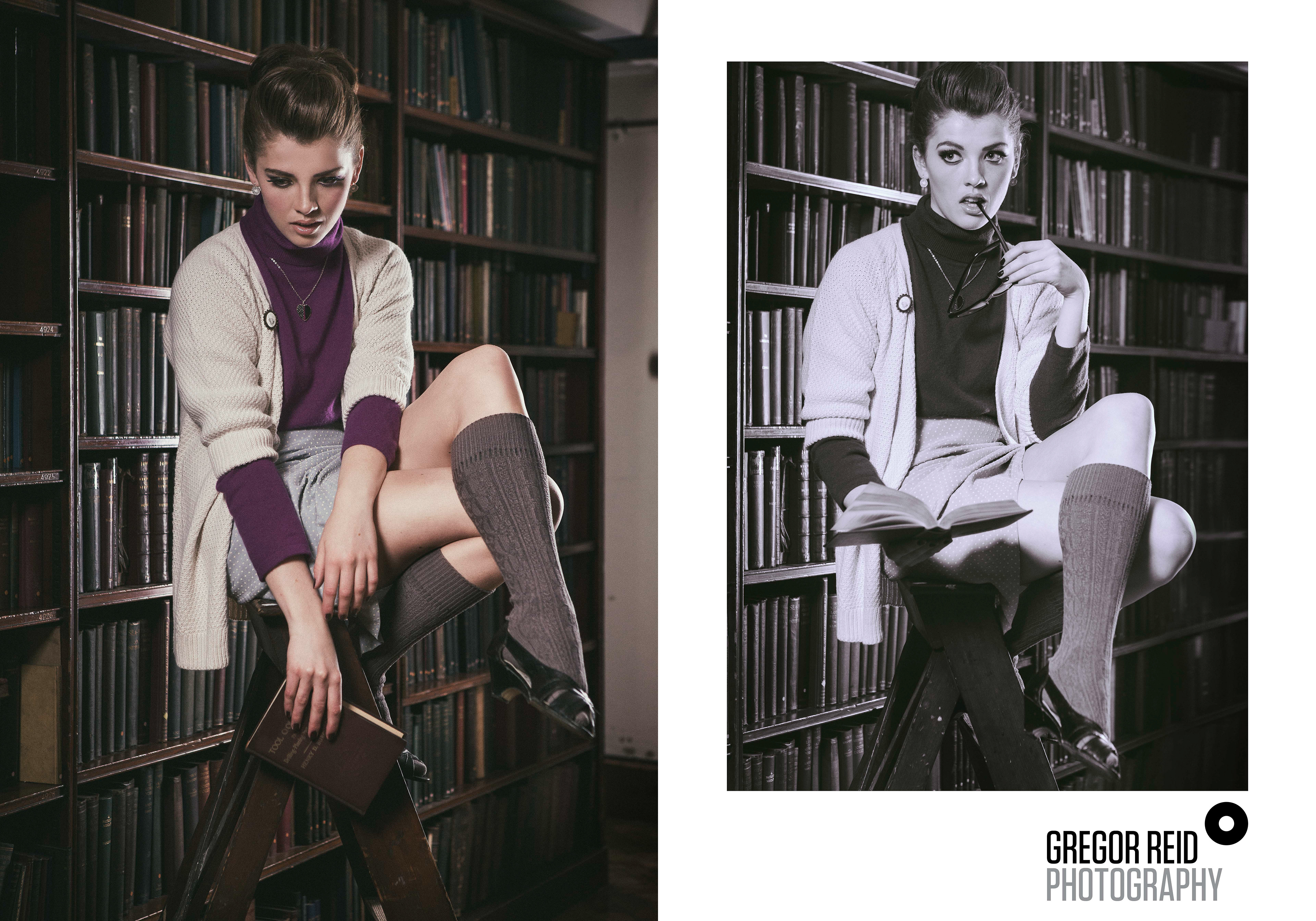 I don't know if it's the smell of old books, the deferential silence or the fact that so much knowledge is packed under one roof just waiting to be discovered, (or just because they're pretty) but whatever it is, I love old libraries. Which is where we headed for the the latest Westender Magazine fashion shoot. The brief was a nod to geek chic with a wiff of Margot Tenenbaum. I put in my location request to Suz the editor and waited… the Mitchell Library is an iconic Glasgow building, one of the largest libraries in Europe and over a hundred years old… and they said yes! I don't know what she offers people to get these great locations, it's probably better not to ask. We arranged to swing by for a recce and I took my little point-and-shoot to help me work out shots. That's a camera by the way.

We were treated to a tour of the lesser known parts of the building, the stunning Edwardian corridors with their grand pillars and marble floors, the dark wooden rooms full of books that can only be touched by experts in white gloves (they don't like it when you lick your fingers to turn the pages), and the strange eerie spaces seldom used except perhaps by photographers and ghosts. It was all a bit "Indiana Jones" at the Britsh Museum, not the Peruvian jungle bit, although that gives me an idea for our next shoot… Suz? This was a gift of a location.

We were granted access to the underground car park which was just as well because as usual as I had brought more kit than I could possibly use. After several sweaty journeys back and forth to the car (Suz sweated, not me, I never sweat) we managed to get most of the equipment in the lift. We left the rest on the ground to collect on our return trip. We inspected several floors but every time we stopped we couldn't find the area that we had designated as our base. Seeing that we looked utterly lost a member of staff approached us. He told us the we were on the wrong side of the building and that he didn't even know that the lift we had used was still working. At that exact moment the lift did indeed stop working. Thankfully we managed to rescue the gear and then make our way though miles of corridors, two (reliable) lifts and a lovely selection of staircases. More sweating accompanied the slight wheezing. The equipment that we deserted in the car park was thankfully still waiting for us outside the now 'dead' lift. We made one final push and arrived at the Jefferson room to find Terri (MUA), Vivienne (stylist) and Amy (model) already hard at work.

We didn't have to worry about members of the public stumbling into our makeshift changing room or bombing our shots as this entire part of the building had been sealed off for our use only. This meant I could throw up as many lights as I needed and have cables running all over the place, but I still obviously adhered to the strict rules of health and safety, I'm not a complete loon!!

The hair, make-up and clothing changes were all going smoothly and Amy very quickly settled into the rhythm of the shoot. My job was to not screw it up.

The shots we had planned thankfully worked out even better than I had hoped and we improvised a couple at the end. As usual just as everyone looked at me expecting to hear "it's a wrap", and as usual I came out with my standard, "hey Viv, do you think you could put together one more outfit?". Which she did and Terri managed to invent yet another look so we managed to get one more shot in the bag. We have the hardest working team in showbiz.

We wrapped around 4 o'clock and then began the reverse pilgrimage back to the underground car park. Once again I didn't perspire, Suz sweated enough for both of us, maybe I should have offered to carry the really heavy stuff… anyway...

Great location, great team and a great shoot.

Thanks Vivenne Masters (Stylist), Terri Craig (Hair and MUA) Amy Frances Johnston (Model) and Superior Model Management.